Venetian Carnevale in full-swing... An event not missed in Venice!
posted Tuesday, February 9, 2010 |

Now through February 16, 2010 (Shrove Tuesday, or Mardi Gras; the day before Ash Wednesday) Venice will be hosting the pre-Lenten festival of Carnevale. Carnevale, from the Latin meaning "farewell to meat", is Venice's version of masquerade balls, costumes, costume-parties, parades, fireworks, grandiose events, etc. The idea, of course, is similar to the Mardi Gras in New Orleans or the Carnival of Rio de Janeiro, where Christians celebrate one last "hurrah" prior to Lent.

The symbol of the Venetian carnevale is the mask, in which the oldest documents date back to 1268 as the first time they were used for Carnevale. Masks became the way a commoner can partake in the balls with the nobility. They afforded anonymity, while giving one a way to change persona. And it was also a way that you can have your sins forgiven.

The festival was condemned by the popes and the doges, but nothing could dampen the spirit until Napoleon put an end to the celebrations in 1797. The festivities were later resurrected in the 1980's by the local tourism powers.

Today it is a major celebration filled with locals and tourists from all over the world. It is the most important festival in the city of Venice, and one that should not be missed if your travels take you to Italy during this time.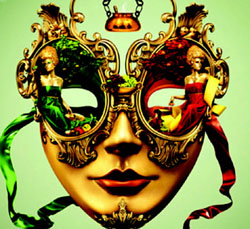 Labels: carnevale, mask, venetian carnevale
---