La cattedrale di Catania, at the Piazza del Duomo
posted Saturday, November 21, 2009 |

Pictured below is the most important church in Catania, La Cattedrale di Sant'Agata in the Piazza del Duomo, right in the center of the medieval city. This is the spot where Saint Agatha was slain and died a martyr's death in the year 251.


The church was built in the 12th century and occasionally has to undergo repairs from earthquakes and the volcanic eruptions from Mount Etna, nearby. In fact, the church was completely renovated in 1693 as the city of Catania was destroyed by an earthquake.


Every year in February, from the 3rd through the 5th, Catania will celebrate with a festival honoring their patron saint. Legend has it that she was imprisoned, persecuted and suffered the removal of her breasts for having rejected the amorous advances of a Roman Senator, Quintian; honoring her Christian vows of purity. The 3-day festival is a very religious celebration with processions, shows, celebrations, etc. while many will follow an effigy of St. Agatha through the town praying for a miracle.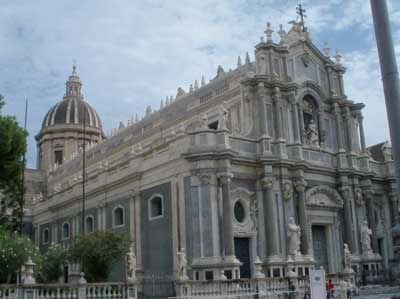 Labels: catania, cattedrale di catania, saint agatha
---