How do they celebrate Saint Valentine's Day in Italy?
posted Thursday, February 11, 2010 |

From the country that gave us Romeo and Juliet, famous novels like "I Promessi Sposi", romantic gondola rides, etc., there is no doubt that Italy is the country for lovers. Even the Italian language, which is so expressive and precise in thought and emotion, is also considered one of the most romantic and beautiful of all languages.
So how do Italians celebrate Saint Valentine's Day? Logic would tell you that Saint Valentine's Day is a huge celebration in Italy, right? Italy does take its celebrations seriously, usually involving family and food. However, current-day celebrations are not as extensive as you would think. Let's look at the history of Saint Valentine's Day, or "La Festa Degli Innamorati" in Italian:
Ancient Traditions
The original Saint Valentine's festivities were celebrated as a spring festival where lovers would gather outside in gardens, etc. to listen to music and exchange poetry. One ancient tradition is for an unmarried girl to wake up early, and stand by their window. Legend has it that the first man an unmarried girl sees that day will end up marrying her within a year. In 494 AD, the Pope Gelasio I declared a celebration in honor of Saint Valentine to replace the ancient fertility day celebration that existed since Pagan times.
Current-day traditions in Italy
Present-day Saint Valentine's celebrations have become more commercialized than centuries past, and many Italians consider it an American-import. On this day, the exchange of gifts is usually between lovers. Rarely, will gifts be exchanged between family members and friends. Usually a couple will go out to dinner, or prepare a nice candle-lit dinner at home. A popular gift is the Baci Perugina chocolate-covered hazelnut. Inside will be a romantic poetic quote in 4 different languages. And that is basically the extent of their Valentine's Day celebrations.

In Italy, Saint Valentine's Day is not about expensive gifts, diamonds, jewelry, etc. It is a day to show someone you care, or to say "I love you" in Italian, which is "Ti Voglio Bene". Isn't that what Valentine's Day is supposed to be about anyway?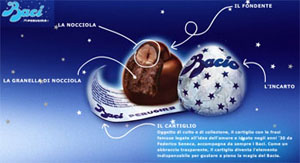 Labels: festa degli innamorati, saint valentine's day in italy
---